The most wonderful time of the year is almost upon us! Whether you're looking to enhance that special bond with mini or treat a fellow Mama to some well-deserved pampering, we've got the perfect guide of the best Christmas ideas for mums so you can treat Mama and Mini (or yourself) to this festive season to leave their skin feeling soothed, nourished and supported from top-to-toe.
Wondering what new mums need? Charged with plant-based ingredients, nourishing oils and our omega-rich skin complexes, our pregnancy and breastfeeding safe Christmas skincare gift sets will hydrate and soothe Mum and Mini's skin this Christmas...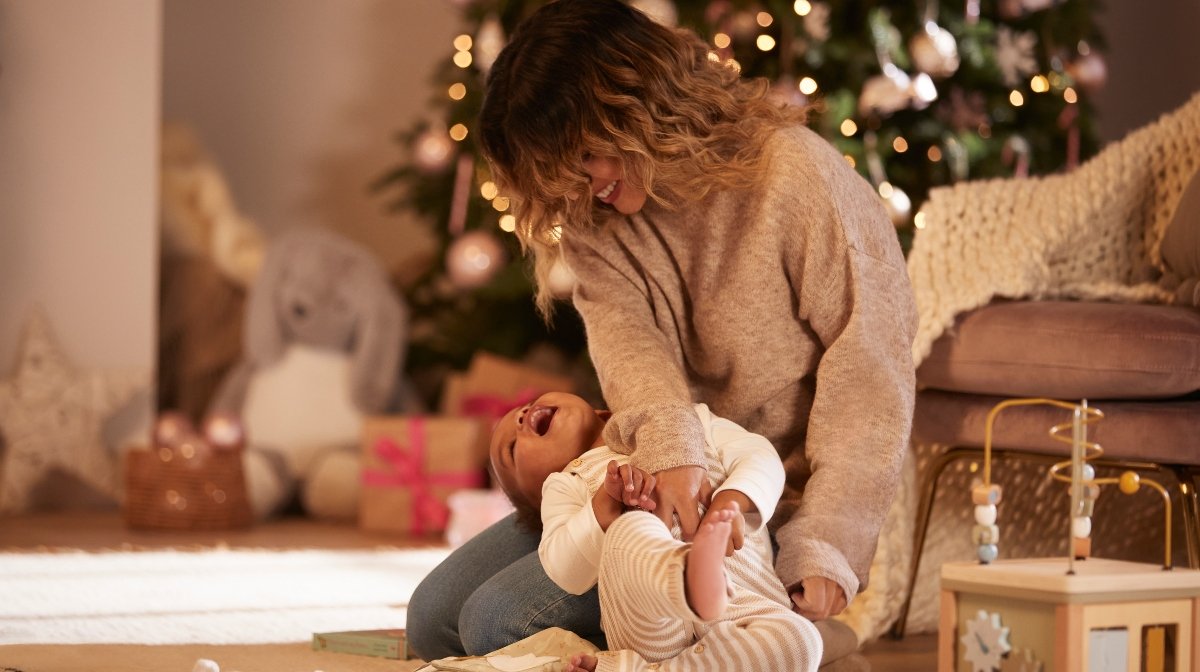 Our first of our Christmas ideas for mum is to help her create those special bonding moments between her and mini with our expertly curated Mini Mio Moments with Mama Gift Set. Whether she wants to create sensorial fun in the tub or soothe Baby's dry skin, this bundle contains everything the little one will need to keep their skin healthy, nourished, and protected from top to tiny toe during the festivities.
This bundle contains our Mini Mio essentials to take baby's skincare routine from day to night including our Comfort & Calm Bum Balm to leave a protective layer on baby's skin for the happiest of nappies, our Mini Moments Massage Gel to help enhance those precious skin-to-skin moments during a soothing baby massage, Mini Mio Beddy Byes Bath Milk to gently cleanse baby's skin leaving them looking and feeling clean and protected from dryness.
Are you looking to treat a special Mama-to-be but unsure as to what mums really need? Whether it's a friend, partner, or daughter, they're bound to appreciate putting their feet up for a pamper with our Bloomin' Lovely gift set. Delivering results you can both see and feel, this expertly created Christmas skincare gift contains our bestselling Tummy Rub Butter to help increase skin elasticity and moisture, helping to protect against stretch marks*. Lucky Legs Cooling Gel, infused with Aloe Vera and Menthol Crystals, can help relieve tired, weary legs, feet, and ankles as well as reducing puffiness for instantly cooled, refreshed and soothed skin. Boob Tube Bust Cream can help soothe and hydrate boobs as they grow during pregnancy. Finally, our Megamama Shower Milk to gently cleanse and refresh for beautifully supple and soft skin.
*Tested on 30 pregnant and 30 non-pregnant women with stretch marks, in a 4 week independent consumer trial.
As your boobs grow during pregnancy they can become tender, dry and your nipples can feel cracked and sore. If you're looking for the ultimate Christmas idea for a mum who expecting, she'll likely want to soothe her sore boobs and nipples during pregnancy and beyond. Luckily, our Breast Friends Gift Set will do just that.
This gift set contains our Boob Tube Bust Cream, which is packed with plant-based actives including Aloe Vera and Cabbage Leaf Extract to help cool, soothe and hydrate boobs during breastfeeding during the 9-month str-e-tch and beyond. Then, comfort and calm sore, chapped nipples with our vegan-friendly Keep Calm Nipple Balm blended with Shea Butter, Vitamin E and Coconut Oil to moisturize and protect sensitive nipples during pregnancy and breastfeeding.
Searching for the perfect Christmas idea for mums who love using Mama Mio? Give them the gift of ultimate hydration and protection against the appearance of stretch marks with our Supersize Tummy Rub Bundle. Expertly formulated by dermatologists to moisturize and protect growing skin as it stretches during pregnancy, this bundle contains supersized editions of our popular and iconic Tummy Rub Butter and Tummy Rub Oil both clinically proven* to increase skin elasticity and moisture. For best results, apply the silky, lightweight Oil first and follow with the thick, rich Butter for the ultimate protection against stretch marks.
*Tested on women, in an independent consumer trial (for further details see individual product page).
Looking for the perfect winter moisturiser, Mama? Look no further, Gingerbread Tummy Rub Butter is here!
Josie is an Online Beauty Editor with a Bachelor of Arts degree in Journalism. Her passions involve all things skincare and beauty and in her free time she likes to travel, read and get her beauty sleep.