Welcome to mamahood, mama! With your little one now in the world, it's time to put all of your preparation into action. The crib has been assembled, the cupboards stocked with nappies, and the books have been read. However, now that your mini is at home with you, you might find the simpler tasks are the ones leaving you stumped! You may not have considered how to wash your baby's hair, for example. We know you want to be careful with your bundle of joy. With their delicate skin and soft strands, it makes sense to be extra cautious when it comes to grooming and hygiene. But it needs to be done, mama! So here's all you need to know on how to wash your baby's hair.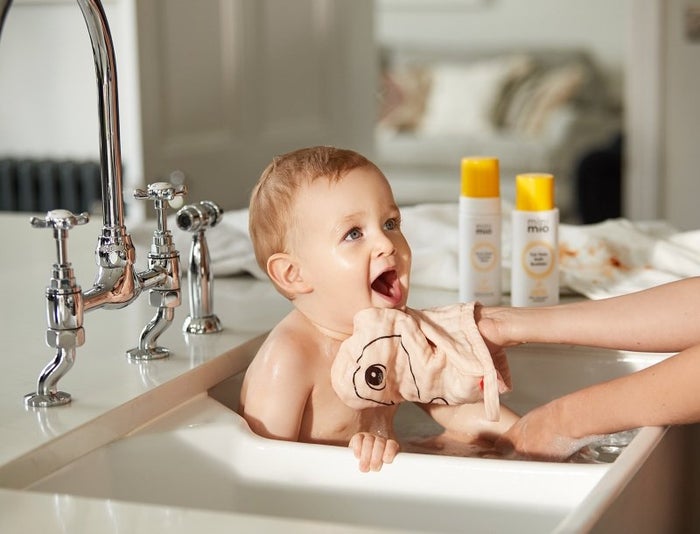 When to wash a newborn's hair
Firstly, when exactly do you start to wash your newborn's hair? If your little one has a few locks already, feel free to start straight away, mama! Just stick to dabbing their strands with warm water and cotton wool for the first three months. After that period of time is up, you can introduce lathering a gentle shampoo into your baby's hair, such as the Mini Mio Oh So Clean Foaming Wash.
What to use to wash your baby's hair
Once you feel the time has come and your baby's hair is ready to be washed with shampoo, make sure to pick the right one! First and foremost, what you use to wash your little one's hair should be a shampoo designed specifically for babies. We want mild, soothing formulas only, please! The last thing you want are harsh, unnatural ingredients on their precious skin. Look for a shampoo which is pediatrician approved and dermatologically tested.
Charged with a Skin Nurturing Omega Complex expertly formulated by our dermatologists, our Our Mini Mio Oh So Clean Foaming Wash for baby contains a unique blend of Shea, Avocado and Coconut Oils rich in Omegas to help keep baby's skin feeling nourished and moisturized. It is also packed with plant-based actives to help keep the little ones feeling comfy in their own skin including protecting Vitamin E and a 100% natural gentle fragrance.
How often should you wash baby's hair
It is mostly advised to bathe your infant one to two times a week. As your little one's hair follicles won't produce much oil, you might find that one or two weekly shampoos are plenty. Having said this, washing baby's hair isn't just for removing those excess oils. It can be a soothing experience that allows you to bond together as you gently massage the shampoo into your little one's scalp.
Plus, you can use the time spent washing baby's hair to calm them down as part of their bedtime routine. A soft, milky bath with Mini Mio Beddy Byes Bath Milk is the perfect step to wind-down. The naturally calming Lavender scent combined with warm water is a great way to soothe your baby before bedtime. 
Step-by-step how to wash baby's hair
Now that you have what you need to wash baby's hair, let's get started, mama!
Step One- Prepare the tub
Fill the tub with around two to four inches of warm water. You can use the your elbow to test the temperature and make sure the water is warm but not hot.
Step Two- Gently Lather Shampoo
Bathe your baby as you normally would. The Mini Mio Oh So Clean Foaming Wash can be used both for body and hair! When it's time to wash your newborn baby's hair, cradle your baby under your arm and moisten their scalp with a washcloth before gently lathering a small dollop of baby shampoo into their hair.
Step Three- Rinse Away the Product
Use your hand to rinse out the shampoo carefully but thoroughly. Alternate between using the water and sweeping out the product from the front to the back with your hand.
Step Four- Dry Your Baby's Hair
When everything has been rinsed away, it's time to let your baby's hair dry. Lift them out of the tub and pat them with a soft towel. You can choose to gently rub the hair dry at this point.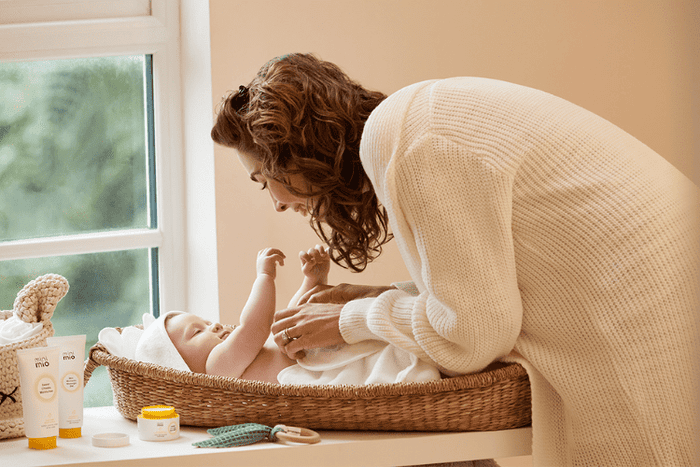 How to dry your baby's hair
As mentioned, whether you choose to allow your baby's hair to dry naturally or not is up to you. If you opt to give the process a hand, the simplest way to dry your baby's hair is by using a soft towel to soak up any excess water.
Now that you know how to wash baby's hair, that's one less thing to worry about, mama! Whatever baby-care concern you may have, we have you covered. Why not take a look at our guide on When to Use Nappy Cream and How To Use It.
Shop This Post:
Josie is an Online Beauty Editor with a Bachelor of Arts degree in Journalism. Her passions involve all things skincare and beauty and in her free time she likes to travel, read and get her beauty sleep.