To celebrate World Breast Feeding Awareness Week, we partnered with Seraphine Maternity to empower our mamas to feed how they want, when they want, where they want.
Buying bras can be a challenge at the best of times… Add to that the size fluctuations & feeding features you'll soon be dealing with, and you've got quite the underclothing conundrum on your hands. We've put together a few simple tips to help you find the perfect maternity bra for you.
Maternity & nursing bras – what's the difference?
Short answer: There is no difference! All maternity bras come with built-in access for breastfeeding.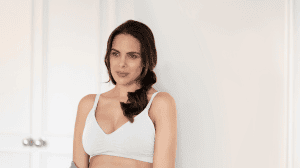 When to buy
As every mama knows, when you're pregnant your bra is often the first item of clothing you'll be 'busting' out of… see what we did there?
Generally, your cup size will grow over the first 20 weeks or so of pregnancy, and your rib cage will start to expand after that from 20 weeks onwards. Your cup size will then grow again when your milk comes in after baby arrives, before settling back to a 'new normal' once you establish a breastfeeding routine.
We suggest buying maternity bras in two waves...
The first in your second trimester, once your cup size is more or less stable.
The second, a couple of weeks before your due date for those final weeks of pregnancy & first weeks of nursing.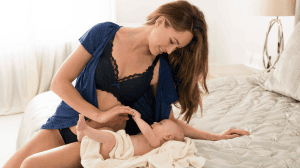 Finding the perfect fit
1st Wave Bras
As a starting point: Add one cup size and one back size onto your usual pre-pregnancy size. So if you usually wear a 34C, you'll want to start by trying a 36D.Make sure that you feel comfortably secure on the tightest setting, giving yourself plenty of room to adjust the fit as you grow.
2nd Wave Bras Take your pregnancy bra size, add 1 cup size and subtract 1 back size. So if you are wearing a 36D near the end of your pregnancy, you should opt for a 34DD for nursing.
This one should feel comfortably secure on the loosest setting so that you can tighten it up over time as your body settles back to normal.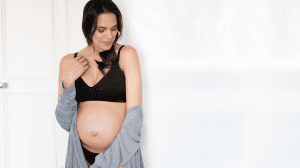 Which maternity bras to buy
The everyday bra – These are the ones you'll be wearing most, so we recommend something soft & breathable with a flexible fit & great support (non-underwired is best). Seraphine's Bamboo Seamless Maternity & Nursing Bras are a fantastic option.
The sleep bra – Comfort is key at night, and nothing beats their Organic Cotton Maternity & Nursing Sleep Bra. It's ultra-soft, with no clips or hooks that could dig in as you dream. It provides the perfect support through pregnancy & the cups simply pull aside for breastfeeding after baby is born.
The feminine bra – If you're looking for something a bit more stylish, a little lace goes a long way! Seraphine's selection of gorgeous lacy maternity bras are expertly crafted with all the shape & support of their everyday bras, plus that little extra confidence boost that comes with wearing sexy lingerie.
The sports bra – Staying active through pregnancy has proven benefits for both you & your baby, so a beautifully fitting maternity sports bra is a must. With easy drop down access for nursing, these are also perfect for when you're ready to start easing your way back into shape after baby is born.
Visit Seraphine.com for more maternity fashion tips & to browse their full collection of beautiful clothes for pregnancy & nursing.
Plus, head over to our Instagram to enter our competition to win a Twin Pack of Seraphine Sleeping Maternity Bras and our Mama Mio Breastfeeding bundle!