It's time to survive the Summer, Mama! As the weather heats up, pregnancy skin changes are every more present, skin can feel drier and itchier, your legs can feel hotter and puffier and your boobs can feel even more sore and swollen. But fear not, over the coming Summer months we'll be here to help you stay cool, calm and collected, so you can enjoy the warmer weather!
Read on to discover our solutions to pregnancy skin changes, including dry skin, swollen legs and feet, stretch marks and sore boobs…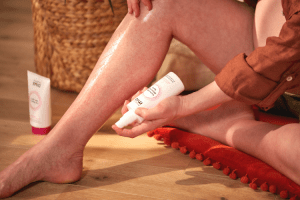 Stretch Marks
A big pregnancy skin change is stretch marks. Stretch marks are perfectly normal and super common to get when you're on your pregnancy journey, Mama! But if you're feeling a little self-conscious about wearing shorter sleeves, shorts or skirts in the warmer months, we have the perfect solution.
But what are pregnancy stretch marks? And how do they develop?
During pregnancy, the skin rapidly expands to accommodate a growing baby bump. As the skin str-e-tches, the skin collagen component of the skin is stretched, causing tension within the skin. This tension can 'pull apart' and damage these collagen bundles, resulting in stretch marks. As our skin attempts to repair the ruptures, more collagen is produced, but this collagen is believed to be thinner and less organised than 'regular' collagen fibres, leading the stretch mark to be visibly different from the surrounding skin. For more information about stretch marks, check out our blog!
Charged with our iconic Omega-rich Skin Stretch Complex, our stretch marks range has been expertly crafted to increase skin elasticity, helping to protect against stretch marks. From rich, thick butters to silky, lightweight oils, our Tummy Rub Butter and Oil are both clinically proven* to increase skin elasticity and moisture, helping to protect against stretch marks. Partnered with our gentle Tummy Rub Scrub to polish and prep pregnancy skin and Mama Marks Cream to visibly reduce existing stretch marks, you'll feel your most confident you in no time!
*Tested in an independent clinical trial.
Swollen Legs and Feet
Are your ankles feeling swollen? Legs feeling hot? Feet feeling puffy? We feel you, Mama! Did you know, when pregnant, swelling is caused by your body holding more water than usual. As the day goes on, the extra water tends to gather in the lowest parts of the body, hence why your legs, feet and ankles feel the biggest weight! This can be intensified if you're stood up for a long time or if the weather is super hot, not to mention the extra weight in your belly! If you're experiencing your Trimester 4 in the summer months and your legs are feeling the weight from your baby in your arms, we have the products for you too. Find out how to help treat swollen legs with our guide, here!
If you're feeling the heat on your legs and feet, our Lucky Legs Refreshing Spritz and Lucky Legs Cooling Gel are here to help. Fuelled by whole host of revitalising ingredients including cooling Aloe Vera, energising Ginger Extract, comforting Chamomile Extract and a 100% natural, peppermint and menthol fragrance, you'll feel invigorated and ready to go (or ready to have a nice lie down) in no time.
Sore Boobs
As one of the most common, earliest signs of pregnancy skin changes, tender boobs and nipples can be a big discomfort for expectant mamas. Not to mention if you're breastfeeding post-partum, your boobs can feel engorged as well as your nipples dry and cracked. In the summertime, when your battling a host of other problems as well, let's bring this one further down the list!
When you fall pregnant, your body is flooded with hormones. These hormones are working to quickly prepare your breasts for breastfeeding, with the fl