We spoke to Baby Massage Therapist, Kerry Hodges from Basking Babies to ask her everything you need to know about baby massage and its wonderful benefits.
Baby massage can be used for everything from colic to constipation to relieving wind. Keep scrolling to discover how to perform a baby massage, baby massage benefits and the perfect time to do one to ensure both mama (or dada) and baby are relaxed and calm.
Bond with baby just that little bit more...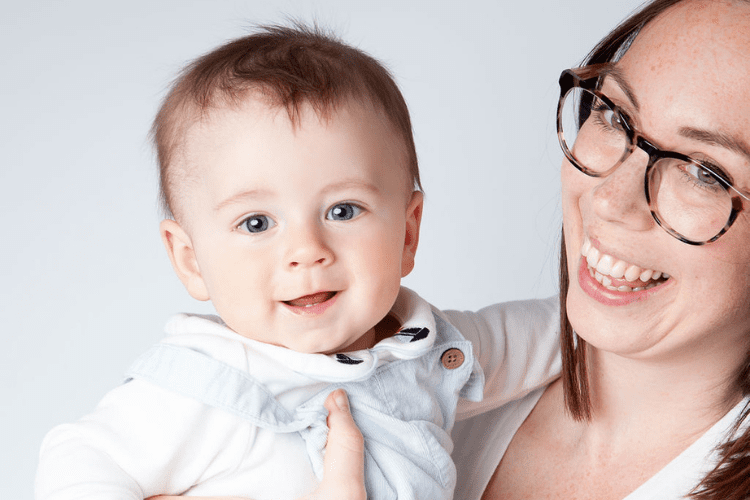 1. Can You Tell Us A Bit About Your Career Journey And How You Became A Baby Massage Therapist? 
I have always worked in the Social Care sector, mainly focused on supporting families. Last year, I became a first-time mum and I knew straight away that I wanted a change of career that allowed me to have a good work/life balance. 
During lockdown, I felt the need to meet other mums so I signed up to a Basking Babies baby massage course. I enjoyed it so much that I decided to become a Basking Babies Franchisee (qualified in pregnancy relaxation, baby massage, baby reflexology & baby yoga).
It was a perfect fit for me as I was looking for a role where I could still work with children, could be flexible and spend time with my son and run my own business. I continue to enjoy baby massage with my son as it has provided me with a fantastic tool to help soothe and relax my baby whilst bonding with him. I will cherish these moments forever, and now I have the pleasure of teaching parents and hopefully bringing them the same joy. 
2. What Is A Baby Massage? 
The term 'massage' is thought to have originated from the Greek word 'Messein', meaning 'to kneed' or the Arabic word 'mesh' which means 'to press softly'.
Primarily, massage involves the use of touch and manipulation techniques to move muscles and body tissue to relieve stress, tension, pain and a whole host of other ailments. The art of baby massage has been around for centuries across the globe and continues to grow in popularity across the UK.
"I was surprised with how much the magic of 'touch' helped me bond with my baby, which was a longer process for me following my traumatic birth experience."
3. What Are The Benefits?
Baby massage not only has benefits for baby, but for parents too. For baby, it can prevent and alleviate colic, help to soothe, settle and sleep, relieve gas and constipation, stimulate brain development, physical development and enhance bonding. For parents, it can help with preventing or alleviating Post Natal Depression (PND). Also, baby massage benefits parents by providing peer support, helping parents to grow in confidence, relax and to get to know their baby.
But more than that, the classes give you and your baby a much-needed moment to stop and recharge each week; a chance to spend some quality time together and make new friends. I truly believe that attending our classes will provide a moment of calm as you ride the rollercoaster of motherhood.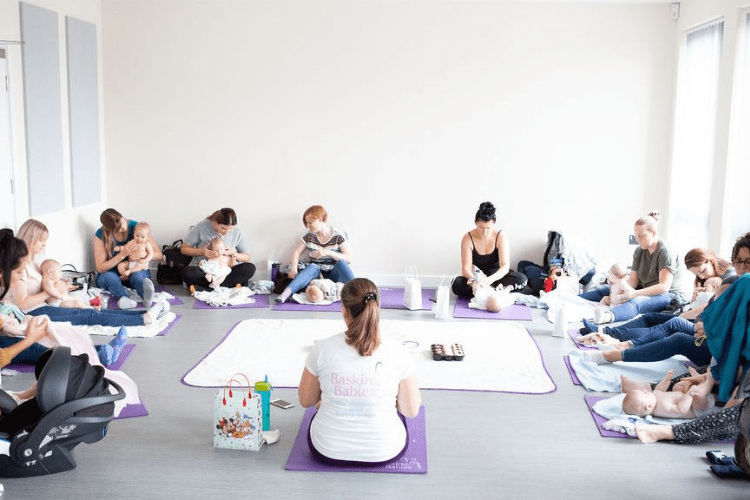 4. Will Baby Massage Help Me Bond With My Baby? 
Yes, most definitely. We know bonding is a process which takes place over time and baby massage plays an important part in enhancing, beginning and continuing the bonding process. Studies have shown that touching a baby's skin, or close skin-to-skin contact, helps to reassure the infant and lowers the level of stress hormones in the infant's body. For the mother, massaging her baby helps to release oxytocin and prolactin (the love and feel-good hormones), helping her to relax, contracting the uterus, and boosting milk supply. 
When I attended the classes as a mum, I was surprised with how much the magic of 'touch' helped me bond with my baby, which was a longer process for me following my traumatic birth experience. I loved that baby massage gave me the opportunity to focus, relax and helped me to connect with my baby.
5. What Age Can You Start A Baby Massage Course? 
Basking Babies baby massage courses are a wonderful first class to attend for new mums. Babies are welcome from birth and it's a safe and welcoming space to begin your "baby class" journey.
"If they have a temperature or fever from their immunizations or from a virus, it's best to wait until they are feeling better before enjoying baby massage together."
6. When Should You Perform A Baby Massage? 
The best time to massage a baby is at a time which is appropriate for both parent and baby. It is important that the parent is relaxed as well as the baby. The ideal time of day will vary by family but the 'quiet alert period', when baby is awake but is relaxed, comfortable and not wanting for anything (such as a feed) is preferable. It is also important to ensure the environment is relaxing for baby, so they are warm and not distracted by noise or bright lights.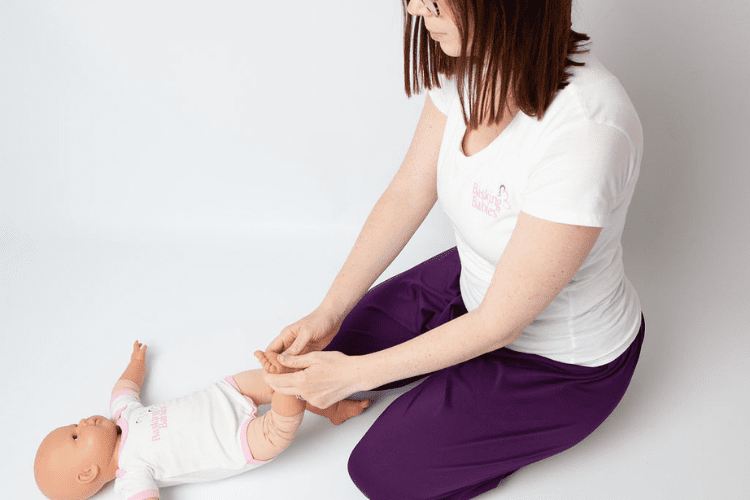 7. How Do You Perform Them And What Are The Steps? 
Our Nurture Me course teaches a full body massage to mum and baby and each week we learn and build upon a specific area of the routine. For example, legs in week one, then legs and tummy in week two and so on. By weeks four and five, mums are equipped with a full body baby massage routine to enjoy with their little ones. 
8. Are There Any Safety Precautions When Performing A Baby Massage? 
If baby has any uncomfortable patches, grazes or bruises, we advise parents to avoid that area. Equally if they have a temperature or fever from their immunizations or from a virus, it's best to wait until they are feeling better before enjoying baby massage together. 
We also never apply any pressure directly to sensitive areas of the body such as the skull, neck, or spine. Whilst baby massage can greatly assist with many normal baby discomforts, if baby has any additional medical conditions, we recommend that the parent seeks advice from their GP prior to attending.  
 9. What Products Should You Use?
You don't have to use anything on baby's skin if you do not wish to. On our courses we provide parents with a bottle of our Basking Babies sunflower seed oil, which is hypoallergenic, organic and naturally high in vitamin E. 
Create Mini Moments Of Bonding
Our NEW Mini Moments Massage Gel help create those special moments of connection through baby massage. This easy to apply, soft gel baby massage oil will help enhance those precious skin to skin moments, leaving baby's skin looking and feeling silky soft and comforted. Charged with a gentle blend of plant-based ingredients in our Skin Nurturing Omega Complex including Shea, Avocado and Coconut Oils rich in Omegas to keep baby's skin nourished and moisturised.
Massage For Mama
Mama, you deserve some tender loving care, too! So, why not indulge in a soothing tummy massage. These can be done during (except first trimester) or post-pregnancy and are a great way to relax, unwind and treat yourself to some much-needed pampering at the end of a long day.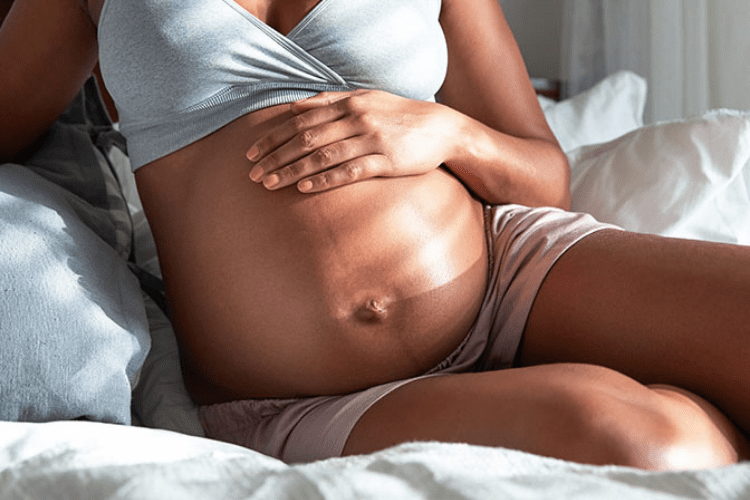 Use our iconic Tummy Rub Butter or Tummy Rub Oil, enriched with nourishing plant-based actives and our unique Omega Rich Skin Stretch Complex that are both clinically proven* to help increase elasticity and moisture, helping to prevent against stretch marks.
*Independent clinical trial
To learn more about Basking Babies explore their website here.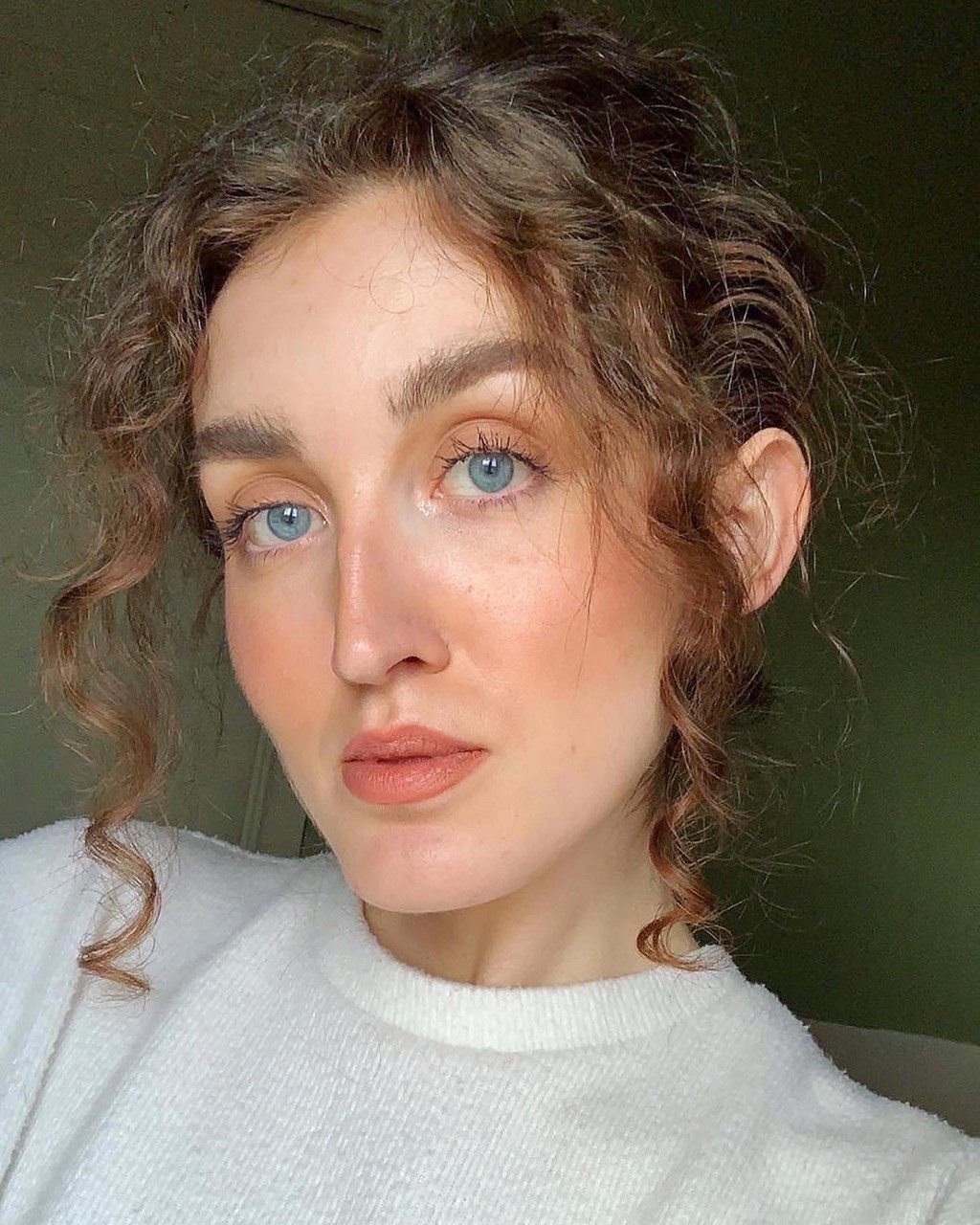 Heleayner is an Online Content Editor with over four years' experience in the beauty industry. She has a Bachelor of Arts degree in Beauty Promotion and has interned at a number of media publications including British Vogue, Elle and Stylist. She has a passion for all things skincare, fragrance and loves being in nature.