You made it, mama! You blared the classical music, rolled around on the exercise ball, and have been welcomed to mamahood! You may have read the tips and tricks on how to boost your baby's development while they were still tucked away in your tummy. Now that your bundle of joy has arrived into the world, a vital part of their development is bonding with them.
Keep scrolling to discover how to bond with your baby.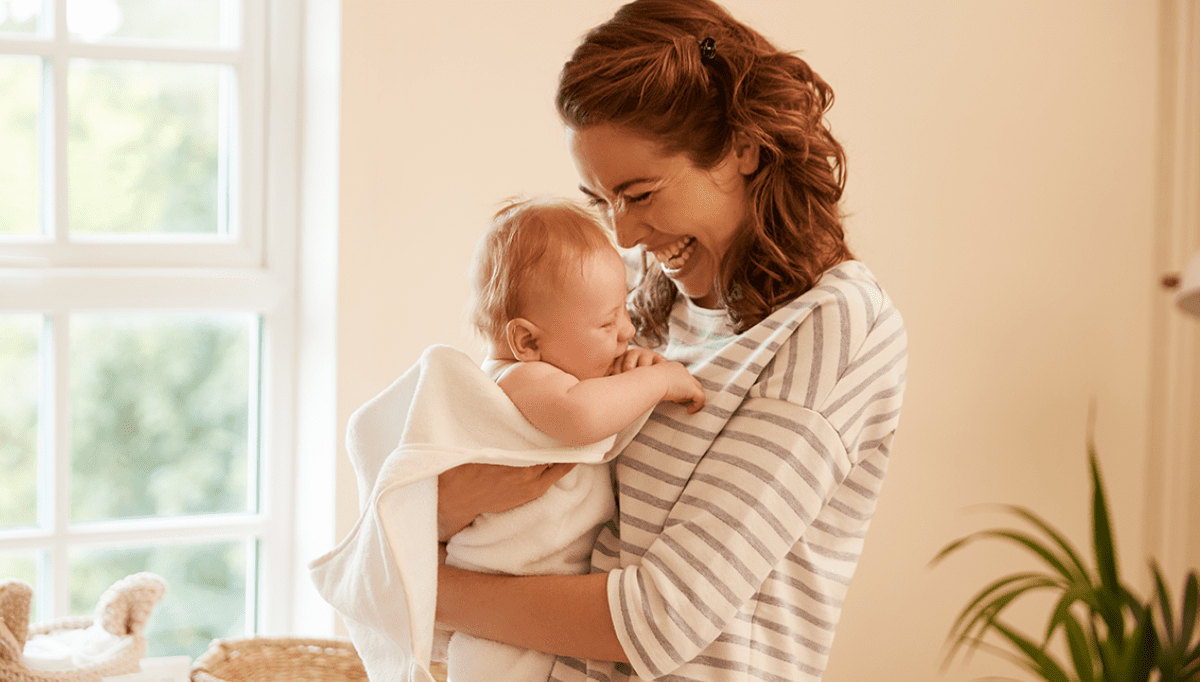 What is bonding between a mother and their baby?  
You may expect to have a deep, strong connection with your baby as soon as you lay eyes on them. If this isn't the case, don't worry. According to NCT, you're not alone if you don't feel that instant bond! With the upheaval and lack of sleep that accompanies a newborn baby, you may be feeling a whirlwind of emotions. Bonding with your baby is all about building that emotional connection so that your baby forms an attachment to you. It's about getting to know them, and them you! 
Why is bonding with your baby important?  
Think about it, every loving relationship has to start somewhere! The first reason why bonding with your baby is so important is that it's the first step of being a loving, caring mama. Aside from this, bonding with your baby is particularly important for their progression. It helps to release the hormones and chemicals in your mini's brain to encourage their physical and mental development. It also gives them a sense of security, relieves stress and introduces them to social skills.  
How to bond with your baby  
So this leads us to ask the question, how can you really bond with your baby, mama? There's the usual things like looking into their eyes, stroking their skin, rocking them to sleep and responding to their cries. Then there are also certain baby bonding activities you can do which help to kickstart that emotional connection. 
Build routines like bath time and bed time  
The first baby bonding activity you can begin is building routines. Transform daily tasks into precious moments that will allow you to connect with your little one. For example, rather than using bath time to simply wash your baby, recognise it's potential!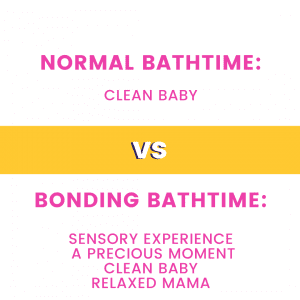 Make it special by using products like the Mini Mio Tub Time Bath Bubbles to transform the water into a bath of bubbly fun! Formulated with a blend of Shea, Avocado and Coconut Oils, the bubble bath will keep the baby's skin feeling nourished and moisturised. The calming blend of orange, florals and vanilla is also perfect to soothe you both during what can otherwise be a stressful task. 
We've also spoken before about the importance of introducing your little one to a baby bedtime routine. It not only kickstarts their natural circadian rhythm, but is also precious time for you and your baby to connect and can be transformed into a baby bonding activity. Set up a relaxing environment with dimmed lights and perhaps a white noise machine to unwind. Leave plenty of time to settle down and use this opportunity to cuddle and soothe your baby before sleep. Hold your baby on the left side of your chest so they can hear your heartbeat, which will naturally calm them.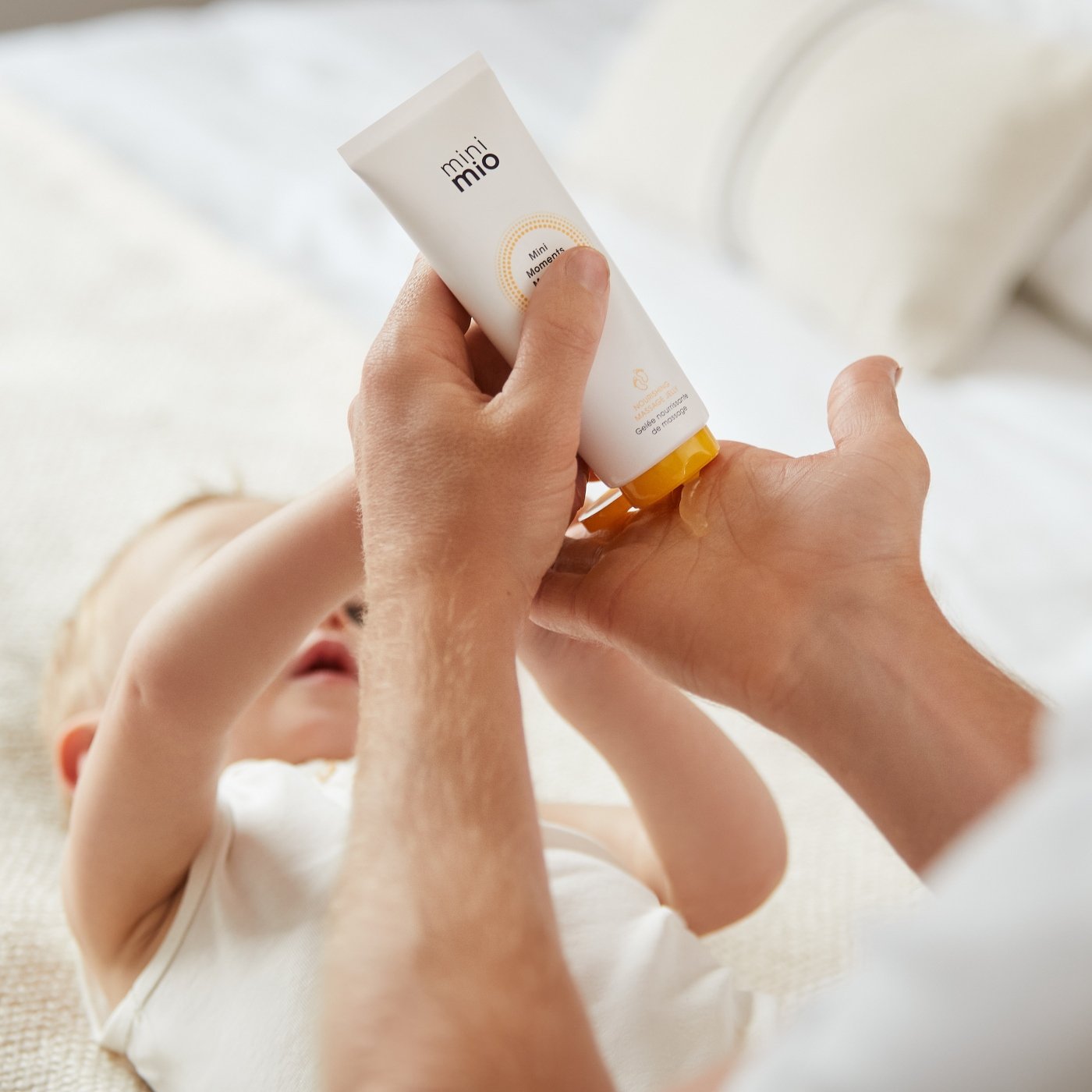 Try a baby massage   
Another way to bond with your baby is to try a gentle baby massage. Before getting your baby dressed, perhaps after their bath, give them a massage with Mini Mio Mini Moments Massage Gel to help them relax after an action-packed day.
A gentle touch is always soothing and can actually lower the stress or hormones of both you and your baby! After massaging, use Skin-to-Skin contact with an intimate cuddle. Lay the baby down on their belly bare on your chest. This cuddling method is known to be particularly helpful for creating that emotional connection!
Talk to your newborn 
Lastly, try talking to your newborn. Read a book or sing a song. (Our secret tip: it doesn't have to be a baby's book. Read something that actually interests you!)
All that matters is using soothing, calming tones. Your baby wants to hear you! The more you do this the better, as it will teach your little one to recognise your voice and can even help them to progress in learning language later on. 
Adjusting to life with a newborn baby can be overwhelming to say the least. As your baby adapts to their new world and you adapt to yours, these small steps will help to bond you both together and build that emotional connection to last a lifetime.
Shop This Post:
Josie is an Online Beauty Editor with a Bachelor of Arts degree in Journalism. Her passions involve all things skincare and beauty and in her free time she likes to travel, read and get her beauty sleep.