Mama, you'll be pleased to hear that for most women the second trimester is much easier than the first and marks the end of unpleasant symptoms such as morning sickness. However, you might begin to notice new changes to your skin that can cause sensitivity and irritation. But, don't worry as we have created the ultimate guide to pregnancy bodycare in the second trimester.
From pregnancy safe body moisturisers to the best exfoliators for pregnancy, read on to discover our plant-based, cruelty-free and dermatologist tested pregnancy bodycare to help keep your skin hydrated and nourished throughout your second trimester and beyond. 
What happens to your skin during the second trimester?
Your second trimester begins during week 13 of your pregnancy and ends on week 27. For the majority of Mamas, the second trimester is easier than the first due to the disappearance of uncomfortable symptoms including breast tenderness and nausea.
However, as your skin stretches to make room for your little one you might notice some changes to your skin including stretch marks, sensitivity and skin darkening. It's important to note that the majority of these changes are only temporary and will go away after you have given birth.
Skin changes during the second trimester
Your body and skin is going through a lot of changes during the second trimester. Your bump is quickly growing, your boobs may become sore and your legs can feel tired, weary and puffy. During the second trimester, you might experience the following skin changes:
Stretch marks
Perhaps the most common skin change to occur during pregnancy. As your tummy grows to make room for your baby, you might begin to notice red, purple or silver stretch marks on your skin. These happen when your skin grows too quickly, causing the fibres in your skin to tear. When stretch marks first develop, they are usually purple or red in colour due to the blood vessels showing on the skin. They should begin to fade after you've given birth, however it is very difficult to completely get rid of them.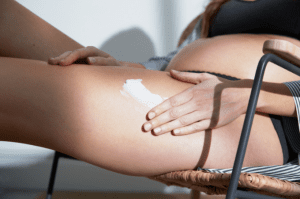 Oily skin
If you find that your skin is more oily during the second trimester, this is because all of your glands are working much harder which can cause you to sweat more often. You might also experience acne, so ensure that you're using mild facial cleansers to prevent further irritation.
Itchy, sensitive and blotchy skin: The skin around your tummy can become red and itchy, due to your constant stretching skin. You might also notice that the soles of your feet and palms of your hands are itchy and red and the skin on your feet and legs can come blotchy and red, especially when you're cold.
Skin darkening
Although experts and dermatologists aren't 100% sure why, many women can experience skin darkening during pregnancy. This is believed to be caused by the increased levels of the hormone estrogen. Both progesterone and estrogen stimulate cells that produce pigments to make more melanin (skin pigment), however they don't make it evenly. Darkening of the skin can appear around the belly button, the perineum, the inner thighs, armpits and on and around the nipples. Skin darkening can become worse with sunlight, so it is important to use an SPF daily. It will usually fade after your baby is born, but if it doesn't your doctor may be able to prescribe a lotion to help reduce discolouration.
New moles
You can develop new moles during pregnancy, however these are not normally the cancerous kind. But, it is a good idea to show your doctor any new moles if you're concerned.
Spider veins
These are caused when an increase in hormones triggers a higher volume of blood to travel throughout your veins. Spider veins are tiny blood vessels that lie just below the skin's surface and the increased flow of blood makes them more visible during pregnancy. Some of them may fade after you have given birth, however if they bother you after delivery dermatologists may be able to get rid of them through a process named sclerotherapy.
Our expertly formulated and pregnancy safe bodycare will help soothe, nourish and moisturise as the 9-month str-e-tch continues during your second trimester. Infused with hydrating plant-based actives and our Omega Rich Skin Stretch Complex, these are the best body products for pregnancy to help give you a head-to-toe, Mama glow. If you're looking for a gift for a special Mama-to-be, take a look at our pregnancy bodycare gift sets to encourage her to take some well-deserved time out and pamper herself from top-to-toe.
Help prevent stretch marks and deeply hydrate your skin during the second trimester with our iconic and bestselling Tummy Rub Butter. Expertly formulated to nourish and soothe growing bumps, all of our Tummy Rub Butter's are clinically proven* to increase skin elasticity and moisture, helping to protect against stretch marks.
Packed with nourishing and moisturising plant-based ingredients including Coconut Oil, Shea Butter and our Omega Rich Skin Stretch Complex, apply this thick pregnancy safe body cream twice per day massaging from above your boobs to below your bum and all the way around. Available in our original and invigorating scent, or our limited edition fragrances. There's a Tummy Rub Butter for everyone.
Your small bump will begin to show and by the end of the trimester your baby will be the size of a Butternut Squash! To help protect against skin changes such as stretch marks and puffy legs, keep your skin hydrated and elasticised with our expertly curated Trimester Two Bundles. Polish, prep and gently exfoliate your skin with our super effective Tummy Rub Scrub to buff away dry, flaky skin revealing smoother, healthier-looking skin underneath. Provide cooling, refreshing relief to tired, puffy legs and ankles with our uplifting Lucky Legs Cooling Gel. Finally, lock-in moisture whilst helping to prevent stretch marks with our iconic Tummy Rub Butter that is clinically proven* to increase skin elasticity and moisture.
Designed to help support growing bumps and boobs, our Tummy Rub Routine includes our gently exfoliating Tummy Rub Scrub to buff away any dry, dull skin whilst leaving the skin feeling silky smooth, nourished and ready for the application of either our Tummy Rub Butter or Tummy Rub Oil. Featuring a lightweight, silky blend of natural oils including Rosehip Oil, Olive Oil and Sweet Almond Oil our best-selling Tummy Rub Oil intensely hydrates, helping to improve skin elasticity and moisture.
As your boobs continue to grow, they can feel sore and sensitive. Discover our ultimate self-care set for sore boobs and nipples, designed to be used from bump to breastfeeding and beyond. The perfect gift for any expecting Mama, this super supportive Breast Friends Kit offers optimum protection, comfort and relief during and after pregnancy. Infused with vegan formulas that are both pregnancy and breastfeeding safe, this duo contains our Boob Tube Bust Cream and Keep Calm Nipple Balm to help protect, soothe and hydrate growing boobs and nipples during pregnancy and breastfeeding. Blended with ingredients including Vitamin E, Coconut Oil and Shea Butter, our Keep Calm Nipple Balm is perfectly safe for use during breastfeeding, so there's no need to remove before baby latches on!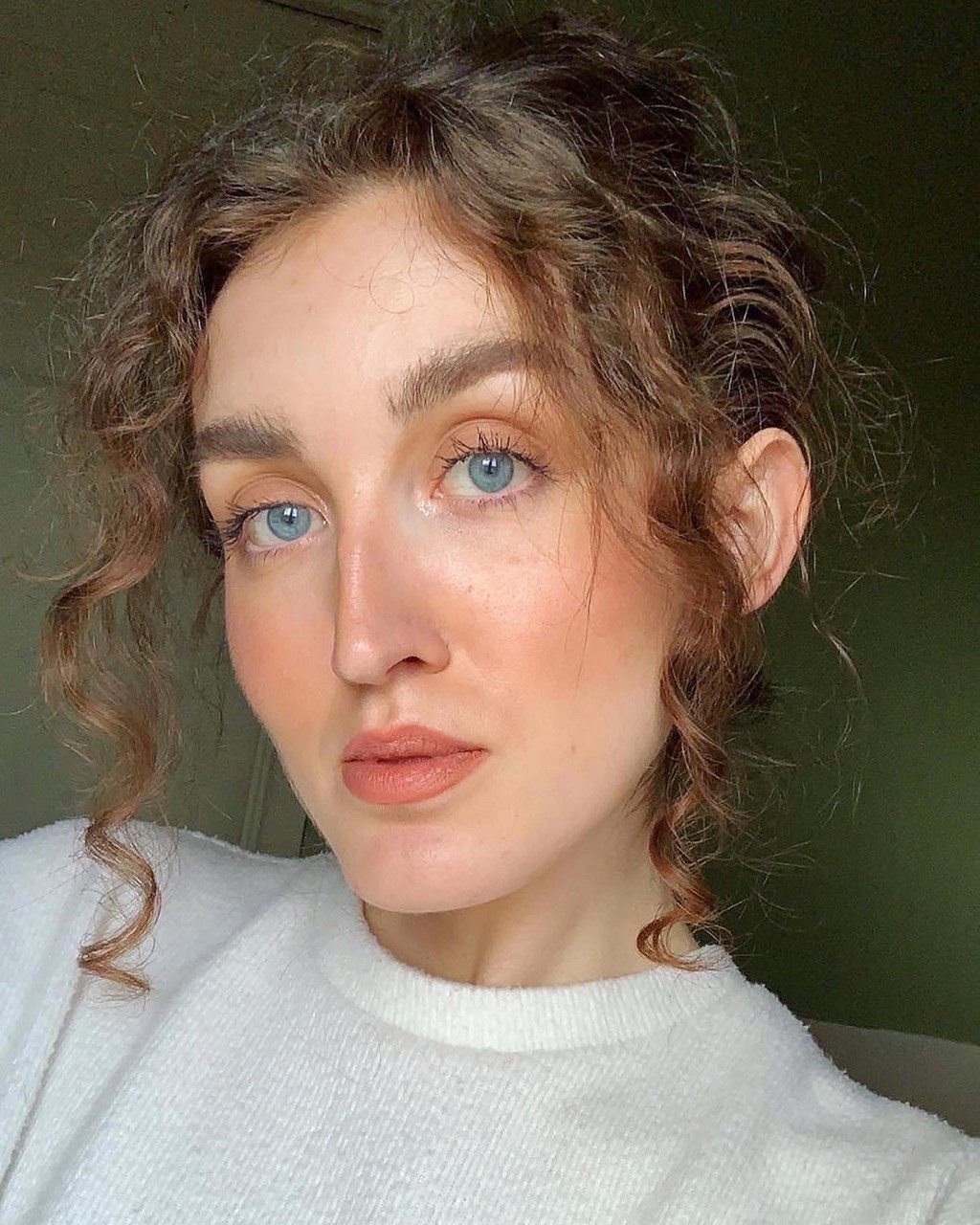 Heleayner is an Online Content Editor with over four years' experience in the beauty industry. She has a Bachelor of Arts degree in Beauty Promotion and has interned at a number of media publications including British Vogue, Elle and Stylist. She has a passion for all things skincare, fragrance and loves being in nature.