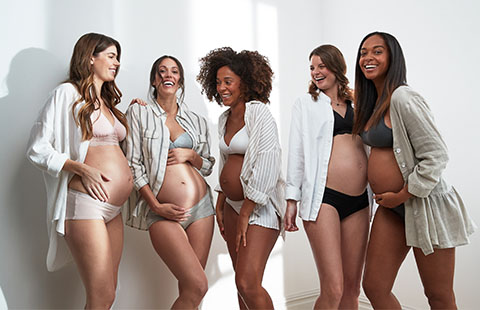 Welcome to mamahood, Mama! Whether you're 12 weeks pregnant or 36 weeks pregnant and about to meet your little one. We have over 15 years of pregnancy skincare expertise and create a wide range of highly effective, cruelty-free formulas containing plant-based actives that will help nourish, hydrate and support your skin throughout the 9-month str-e-tch and beyond!
Book a free pregnancy skincare consultation with our pregnancy skincare experts now to get personalised advice, guidance and product recommendations for your pregnancy skincare routine.
Our Mama Consultations
Congrats, Mama! You're about to experience the most wonderful journey. Your body changes a lot when you become pregnant but we're here to support you every step of the way. In this session, you'll learn about our key ingredient complexes and find quick and easy-to-use products expertly developed for the very start of your pregnancy journey all the way up until 12 weeks of pregnancy.
The second trimester starts from when you're 14 weeks pregnant, so your bump will be beginning to show Mama! As your skin continues to str-e-tch and your baby grows, in this session we'll discuss how to create your ultimate pregnancy skincare routine and how to use our award-winning, clinically proven* formulas to help protect against stretch-marks and sore boobs for a radiant head-to-toe, Mama glow!

Keep going, you're nearly there Mama! The third trimester starts from when you're 27 weeks pregnant until the end of pregnancy. With the finish line in sight, it's nearly time to meet your new bundle of joy. In this session, we'll discuss products to help refresh tired, weary legs, soothe sore nipples and boobs and your hospital bag must-haves to help you prepare to push, push, push!
The 4th trimester is the first 12-weeks after you have had your baby. Your pregnancy skincare routine doesn't stop as soon as your little one arrives and it's important that you continue to keep your skin nourished and protected post-pregnancy. In this session, find out more about our expertly formulated pregnancy bodycare to keep your skin hydrated and supported as you adjust to your life as a new Mama!

We know that breastfeeding isn't always easy for new Mamas and it can be a tricky skill to master. In this session we'll discuss how our breastfeeding friendly boob firming creams and nipple balms can help soothe sore boobs and dry nipples to make breastfeeding that little bit easier.
Whether you're looking to treat yourself or a mama-to-be, our expertly crafted pregnancy gift sets will nourish, protect, moisturise and help keep Mama's skin feeling elastic no matter what trimester she's in. From our 1st trimester pregnancy gift sets, mum-to-be hampers and maternity presents, in this session we will help you find the perfect gift for the special Mama in your life.