You're on the way, mama! At this point, you may be starting to feel some discomforts that come with carrying a little one in your belly. You can confirm that morning sickness is real and as your bump grows, you may notice your skin beginning to change. Your hormones are to thank for this. As they fluctuate, your body can feel as though it's gasping for hydration while somehow managing to be over-oily. Plus, those areas around the bump can get tight as they stretch to make room for your growing baby. Want to know what the best thing is for stretch marks and soothing your body? Enter: Mama Mio's Tummy Rub formulas, but which one?
Keep reading to discover the one for you: the Mama Mio Tummy Rub Oil VS Butter.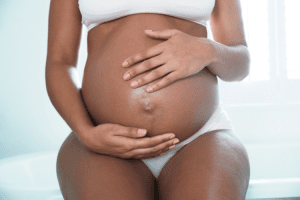 What does the Mama Mio Tummy Rub Oil do?
Mama Mio's Tummy Rub Oil is a lightweight silky blend of natural oils designed to instantly zap moisture back into your skin. According to Johns Hopkins Medicine, there is a hormone made that only you, a mama to be, can make. It's called the human chorionic gonadotropin hormone. This, along with the bursts of oestrogen and progesterone can affect your skin's oil production. Not to worry, Mama Mio's carefully formulated body oil can help with this!
The ingredients that make up the Mama Mio Tummy Rub formula include vegetable-based oils, like Coconut Oil, Sweet Almond Oil and Olive Oil. Vegetable oils mimic the natural structure of our skin, so they help to repair and regulate the skin's moisture barrier and sebum production.
What's more, this lusciously smooth formula makes up one of the best stretch mark oils thanks to its Omega Rich Skin Stretch Complex. A unique blend of Avocado Oil, Inchi Oil and Argan Oil, all rich in Omega 3, 6 and 9, help to keep your skin elastic, supple and strong. It will carry your skin through those long nine months and afterwards, when you finally meet your little one.
Plus, there's something ever so soothing about rubbing an oil into the skin, and you need a bit of self-soothing, mama! The invigorating scent of Mama Mio's Tummy Rub Oil is especially refreshing. The Orange Oil, Bergamot, Mandarin, May Chang and Lime blend creates a breath of fresh air in a bottle. During these months you might start to feel a little nauseous and in a slump, so a body oil is a great way to set aside time for self-pamper.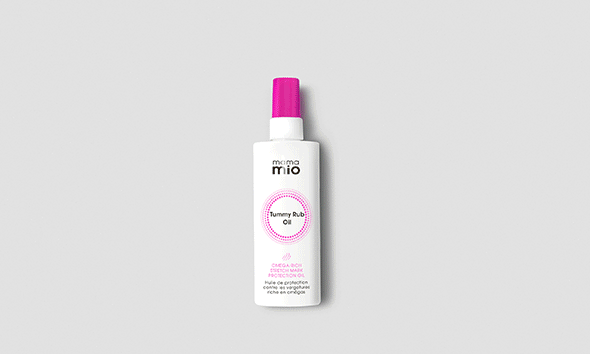 What does the Mama Mio Tummy Rub Butter do?
When it comes to the Mama Mio Tummy Rub Oil VS Butter, both are clinically proven to increase your skin's elasticity and moisture. The Tummy Rub Butter similarly contains the Omega Rich Skin Stretch Complex, simply one of the best things for stretch marks. The Coconut Oil relieves the skin of tightness while the Sweet Almond Oil soothes any sensitive areas.
Body butters are key for long-lasting hydration and calming the skin. According to Healthline, some ladies may develop itchy red bumps on their bellies during the third trimester. While the Shea Butter locks in moisture and protects the skin, its vitamins and fatty acids can soothe any irritation as it spreads easily around the body.
This rich butter is the perfect consistency to cover your skin with a layer of hydration and an energising citrus fragrance w